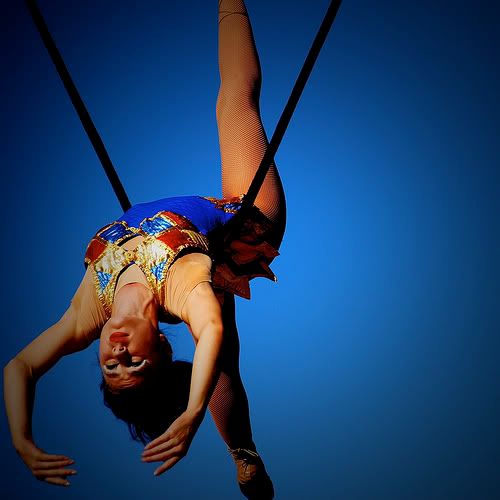 by slack12

Okay okay, so I've never actually been a trapeze artist, but I've always wanted to be. I'm fascinated by ribbon dancers and aerial artists. They look so graceful and delicate yet the muscles and stamina it takes to perform them is staggering, which I recently learned at my very first trapeze class at Aloft Aerial.

Aloft is a troupe of aerial performers that travel all over the world and in my current hometown of Chicago, twisting and flipping their way through chandeliers, picture frames, and hoops and trapezes suspended mid-air. They offer classes from their loft space in the West Loop of Chicago, including a free introduction class the second Saturday of each month.

The space is large, but homey, with silks and trapezes hanging at various lengths from the ceiling taking up most of the space, and a small corner with a few couches and magazines. The smell of chalk is strong and welcoming, and the instructors were both cheery and helpful, gladly flipping over the trapeze to show us all again how to properly hold, "rest" upside down on, and sit on the trapeze. The first time my hands touched the bar, it felt rough, hard, cold and completely alien on my mushy writer's hands, but by the end of the 90 minute class, I found that holding and even flipping myself upside down was, while not natural, an almost comfortable feeling. That is, until I fell. While trying to go from sitting to standing, my hands slipped and I fell off the trapeze, hitting the bar with my thigh on the way down. I was fine, just shocked, and I had a most excellent bruise to show for it. Which made bragging about my weekend plans much easier and more exciting.

evidence of my battle wound:

It was enough fun to make me feel like I was training to be a part of the circus, and I hurt enough after (from the class, not from the fall) to be glad I wasn't.