I've been wearing this shirt almost constantly since it came in the mail earlier this week. It's probably time for a washing since it now smells like three different types of perfume.
One of the many things I pretend to be is a good cook. I'm not bad, but I never stick to recipes so usually my forays into baking end in dilapidated cookies and strange unappealing souffles. Lucky for me, there are multitudes of baking and cooking blogs out there with people who experiment in their own baking, but actually end up with delicious new concoctions. One of my favorites is Natalie Slater's blog, Bake and Destroy. I interviewed Natalie for Chicagoist a while back, and while that post received the most comments and drove the most traffic to the site that month, our readership generally is, to put it mildly, less than kind.
My own fascination with this cool tattooed lady, however, remains, and I avidly read her blog and buy her awesome cupcake swag (I want want want these Horror Movie Poster cupcake toppers!). Until yesterday, I had dared not try any of her recipes, but for you, my lovelies, I decided to take the powdered plunge and make some cupcakes.
There were many I'd like to try, but for some reason, the Earl Grey with orange said "bake me" so I did. And I know it sounds strange, but I, my roommates, and my coworkers, all think they're delicious. Just to be clear, these aren't your super-sweet-put-you-in-a-sugar-coma-cupcakes, they're more subdued, but equally as delicious and comforting as a warm mug of tea.
Recipe from 125 Best Cupcake Recipes by Julie Hasson via Bake and Destroy:
Ingredients
1 1/2 cups all-purpose flour
3/4 tsp baking powder
1/2 tsp baking soda
1/4 tsp salt
2 Earl Grey tea bags or 1 tbsp loose tea
1 1/4 cups granulated sugar
6 tbsp unsalted butter, room temp.
3 egg whites
1 tsp orange zest (or bottled orange peel)
1/4 tsp orange oil (or extract)
1 cup buttermilk
for icing
8 oz (1 brick) cream cheese room temp.
1/4 tsp orange extract
1 lb confectioners sugar
Instructions
Preheat oven to 350. Put liners in your cupcake tray or line a pan (but make sure your cups are stiff because mine got droopy and turned into flat squares, still tasty, but not very cute).
Mix flour, baking soda, baking powder, and salt in a small bowl. If you're using tea bags, your tea should be ground enough to mix in, if not, grind it first before mixing in thoroughly. Set bowl aside.
In a large bowl, add your butter and sugar and beat until combined. One at a time, add your egg whites and beat thoroughly. Add your orange zest and oil, and beat until smooth. Next, beat in your flour mixture and buttermilk, alternating each addition until smooth. Pour batter until your liners are 2/3 full and bake for 20-25 minutes or until tops spring back lightly with touch.
While your cupcakes are cooking, let's make our icing. Cream cheese icing is my favorite, although I never measure my sugar; I just beat until it tastes good. This allows for a lot of taste testing, which is recommended. In a small bowl, add your cream cheese and orange extract. beat in powdered sugar to a spreading consistency and taste.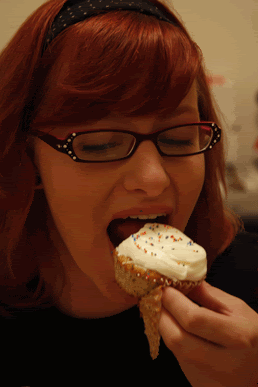 nom nom
Let your cupcakes cool completely before icing. Enjoy with a mug of tea and a British soap opera.
All photos by an awesome man named Jon Mathias. Creepy gif of me eating cupcakes made by me.